Mouton Cadet Bordeaux 2009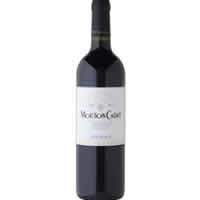 Mouton Cadet Bordeaux 2009
Country- France
State-  Bordeaux
Brand-  Mouton Cadet
Vintage- 2009
Type- Bordeaux
Varietal- Red Wine
Price- $
Average Wine Rating- 3
Description:
Mouton Cadet Bordeaux 2009 is an inexpensive Bordeaux that is produced with Cabernet Franc, Cabernet and Merlot grapes. The is soft, ripe and easy to drink with pleasing red fruit flavors.
Tobin's Review 3 out of 5
Mouton Cadet Bordeaux 2009 is a dry but smooth red wine. The nose is similar to a Cabernet Sauvignon, but the wine is not really oaked (which explains the price.) I taste a hint of green pepper in the wine which I actually like.
Have you had this wine?  Comment below and share your thoughts on Mouton Cadet Bordeaux 2009!