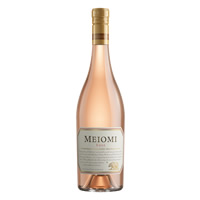 Meiomi Rosé 2018
Country- USA
State- California
Brand- Meiomi Wine
Type- Rosé
Varietal- Pink Wine
Price- $$
Average Wine Rating- 3
Description:
Meiomi Rosé 2018 bursts with vibrant, floral aromas and mouthwatering fruit flavors of strawberry, cranberry and watermelon. The wine is off-dry and offers a touch of honey and silkiness on the palate, complimented by bright acidity and notes or rose petal and orange peel.
About the Winery
Meiomi Wine was founded in 2007 by Joe Wagner (son of Chuck Wagner who was proprietor of Caymus Vineyards in Napa. Joe's first vintage of Pinot Noir was released in 2007 and the company saw quick growth. In 2014 Meiomi began to release their Chardonnay and in the following year Constellation Brands bought them out for $315-million dollars. Constellation Brands own the brand and source their grapes from Sonoma, Monterey and Santa Barbara.
Tobin's Review 3 out of 5
Meiomi Rosé 2018 has a pink gold hue with aromas of strawberry and cranberry. It has a creamy complexion on the mouth with strawberry and a hint of watermelon on the end. It ends dry, and overall is a pretty good wine.
Have you had this wine? Comment below and share your thoughts on Meiomi's Rosé 2018!