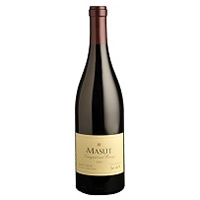 Masut Pinot Noir 2009
Country- USA
State- Redwood Valley, CA
Brand- Masut
Vintage- 2009
Type- Pinot Noir
Varietal- Red Wine
Price- $$$
Average Wine Rating- 4
Description:
Masut Pinot Noir 2009 has a deep ruby color. The wine is rich with ripe strawberries and tangy summer cherries, these flavors are nuanced with a range of of fine baking spices. The bright acidity and restrained silky tannins add freshness, structure and balance.
Tobin's Review 4 out of 5
Masut Pinot Noir 2009 has nice light coloring with a dark cherry aroma. The wine is very light, but complex with a nice vanilla finish. It is more complex than most Pinot Noirs- very good wine!
Jeanine's Review 3 out of 5
Masut's Pinot Noir 2009 has a black cherry aroma. The first sip is smooth, light and fruity. The finish has substance, but is not oaky and I can taste vanilla. The wine is light and smooth and what you would expect from a Pinot Noir.
Have you had this wine? Comment below and share your thoughts on Masut Pinot Noir 2009!