Mark West Pinot Noir 2007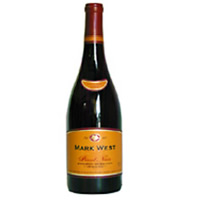 Mark West Pinot Noir 2007
Country- USA
State- Graton, California (Sonoma)
Brand- Mark West
Vintage- 2007
Type- Pinot Noir
Varietal- Red Wine
Price- $$
Average Wine Rating- 3
Description:
Mark West's 2007 Pinot Noir is produced in Graton, California. The wine has fruit aromatics and flavors and is aged in French and Hungarian oak for approximately 8-months which produces a rich texture with a lingering finish.
Tobin's Review 4 out of 5
Mark West's 2007 Pinot Noir is full of cherry. It has a lingering flavor and I really liked this wine!
Jeanine's Review 2.5 out of 5
I enjoy pinot's, but thought the oak was a bit strong.
Have you had this wine? Comment below and share your thoughts on Mark West Pinot Noir 2007!