MacMurray Ranch Pinot Noir 2009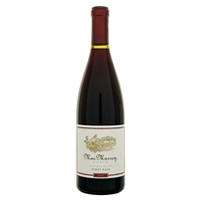 MacMurray Ranch Pinot Noir 2009
Country- USA
State- Healdsburg, California
Brand- MacMurray Estate Vineyards
Vintage- 2009
Type- Pinot Noir
Varietal- Red Wine
Price- $$
Average Wine Rating- 3
Description:
MacMurray Ranch's 2009 Pinot Noir has flavors of bright cherries, cranberry and spices of clove, with sweet vanilla nuances lingering in a long finish.
About the Winery
The MacMurray Estate Vineyard is located in the Russian River Valley. The MacMurray Ranch had been a farmstead since the 1950's and was purchased by actor Fred MacMurray in 1941. When MacMurray purchased the ranch, he continued to raise cattle and crops until 1996, when it was transformed into a vineyard. The region is known for a cooler climate with a lengthy growing season, so it is perfect for growing Pinot Noir grapes.
Wine Reviews
Tobin's Review 2.5 out of 5
MacMurray Ranch's 2009 Pinot Noir has a sweet fruity cherry aroma. It is light on the tongue but a little acidic. I actually taste plum with a hint of oak. Although I pick up the oak, it does have a nice finish.
Have you had this wine? Comment below and share your thoughts on MacMurray Ranch Pinot Noir 2009!