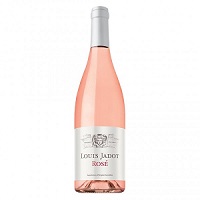 Louis Jadot Rosé
Country- France
State- Burgundy
Brand- Louis Jadot
Vintage- 2017
Type- Rosé
Varietal- Pink Wine
Price- $$
Average Wine Rating- 3
Description:
Louis Jadot Rosé 2017 is made from 100% Gamay grapes. The wine is dry, light, fresh and fruity with floral and orange blossom aromas and flavors of ripe, red berries.
About the Winery:
Masion Louis Jadot was founded in 1859 by Louis Henry Denis Jadot when he purchased a wine negociant house, Lemarie-Foulex. The company would see its strongest international growth in the 1940's and 1950's as they began exporting wine to the United Kingdom, the Netherland, US and South American countries. In 1962, Louis Auguste Jadot would die at the age of 23 leaving the company without a successor. It was decided that Jadot's widow and daughters would retain ownership of the family firm, and André Gagey would take over operations. Gagey would transform the company from a negociant firm into a full-fledged owner-producer firm; using their vineyards for their wines. In 1986 they would contract to operate Domaine du Duc de Magenta, which featured premier cru and Chardonnay grapes. The current winemaker is Frédéric Barnier, who carries out the practices and traditions of his predecessors. Louis Jadot currently produces 10-wines for the world to enjoy!
Tobin's Review 3 out of 5
Louis Jadot Rosé 2017 has a canary pink hue with light strawberry aromas. The wine has flavors of raspberry and strawberry with a bit tartness. It's definitely not a sweet rosé.
Have you had this wine? Comment below and share your thoughts on Louis Jadot Rosé 2017!