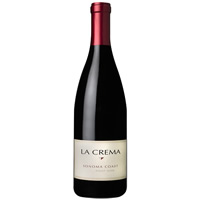 La Crema Pinot Noir 2016
Country- USA
State- Santa Rosa, California
Brand- La Crema
Vintage- 2016
Type- Pinot Noir
Varietal- Red Wine
Price- $$
Average Wine Rating- 3
Description:
La Crema Pinot Noir 2016 is produced in Santa Rosa, California. The wine is soft and smooth on the palate with finely ripened strawberry flavors.
About the Winery
La Crema winery was founded in 1979 and quickly established itself as a pioneer for their intensely flavored Chardonnay and Pinot Noirs. The winery has since become a formidable force in the industry and its tasting room is located in Healdsburg, CA.
Tobin's Review 3 out of 5
La Crema Pinot Noir 2016 is a not deep colored wine, it has more of a plum hue. The aromas are cherry with flavors of tart cherry. It has a soft forward taste, the mid palate is a bit acidic with a post palate of cherry. It is a good wine for the price.
Have you had this wine? Comment below and share your thoughts on La Crema Pinot Noir 2016!