Hyland Estates Old Vine Pinot Noir Pommard Single Clone 2016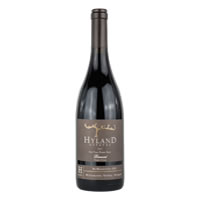 Hyland Estates Old Vine Pinot Noir Pommard Single Clone 2016
Country- USA
State- Dundee, Oregon
Brand- Hyland Estates Winery
Type- Pinot Noir
Varietal- Red Wine
Price- $$$$
Average Wine Rating- 4
Description:
Hyland Estates Old Vine Pinot Noir Pommard Single Clone 2016 is produced in Oregon's Willamette Valley. This Pinot Noir is masculine, rustic and highly sophisticated. Noticeable darker in color, the wine showcases deeper darker fruits with a certain earthiness. The finish is juicy and lingers on the back of the palate with a hint of leather and spice.
About the Winery
In 1971 four families working together (the Kreimeyers, Markleys, Welches, and Trenhailes) planted the first grapes at Hyland Estates. The vineyard now spans over 200 acres with roughly 180 acres under vine; making it one of Oregon's oldest and largest vineyards.
Tobin's Review 4 out of 5
Hyland Estates Pinot Noir Pommard Single Clone 2016 has a dark plum hue with aromas of strong and robust fruit. The wine is very smooth with lots of complexity. I pick up flavors of raspberry and dark cherry. Delicious!!
Have you had this wine? Comment below and share your thoughts on Hyland Estates Old Vine Pinot Noir Single Clone 2016!