Hello Kitty Pinot Grigio 2017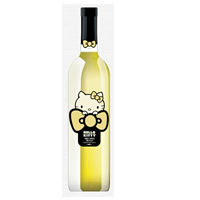 Hello Kitty Pinot Grigio 2017
Country- Italy
Brand- Hello Kitty by Parolvini Wines
Vintage- 2017
Type- Pinot Grigio
Varietal- White Wine
Price- $$
Average Wine Rating- 4
Description:
Hello Kitty Pinot Grigio 2017 is produced by Parolvini wines in the Veneto region of Italy. The wine has a straw yellow color with a green apple taste and peach undertones.
About the Winery
Parolvini wines got its start in 1917 when Callisto Parolini's grandfather started selling wine that was made from his vineyards. Callisto then took over before entrusting the business to his sons, Bruno and Dario, in the 70's. To date, it's still a family run business with Dario in control as his children and grandchildren market the wines throughout Europe.
Tobin's Review 4 out of 5
This Pinot Grigio has a light green apple hue. For a Pinot Grigio it has a nice apple aroma and is soft on the tongue. I pick up a sweet green apple taste with hints of peach muddled in. This is a good wine without any bitter aftertaste. It is clean and refreshing. I must say, I didn't expect much given the gimmicky name- but this is really a good, easy to drink Pinot Grigio!
Have you had this wine? Comment below and share your thoughts on Hello Kitty!