Guigal Cotes Du Rhone 2007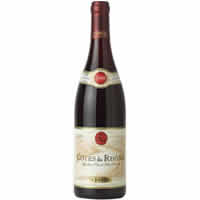 Guigal Cotes Du Rhone 2007
Country- France
State- Rhone Valley
Brand- Guigal
Vintage- 2007
Type- Rhone
Varietal- Red Wine
Price- $$
Average Wine Rating- 2
Description:
Guigal Cotes Du Rhone 2007 is produced from the Rhone Valley.  The wine is mature inky red wine with an anissete aroma. The flavors consist of cherry, berry and plum with a smoky mesquite end.  This is a bone dry wine and very tannic.
Tobin's Review 2 out of 5
Guigal Cotes Du Rhone 2007 has a dark rich color with a nice fruity aroma.  I taste cherry but this wine is VERY dry, not refreshing at all and extremely tart.  I usually like a good Cotes Du Rhone, but I did not enjoy this wine.
Have you had this wine?  Comment below and share your thoughts on Guigal Cotes Du Rhone 2007!