Gruet Cuvee 89 Sparkling Brut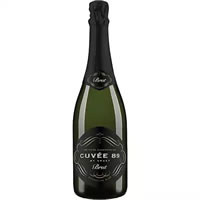 Gruet Cuvee 89 Sparkling Brut
Country- USA
State- Albuquerque, NM
Brand- Precept Wine/ Gruet
Type- Sparkling Wine
Varietal- White Wine
Price- $$
Average Wine Rating- 4
Description:
Gruet Cuvee 89 Sparkling Brut is a brut styled sparkling wine which boasts notes and flavors of green apple and ripe pear which finishes with a round crisp acidity.
About the Winery
Gilbert Gruet was born in Bethon, France in 1931. He began cultivating his first vineyard in 1952 and established Gruet et Fils in 1952. He began traveling the US and decided to plant an experimental vineyard in Engle, NM in 1984. The first release of Gruet wine was in 1989; and the winery has enjoyed continual growth ever since. Gilbert passed away in 1999, but it is still managed by the Gruet family.
Tobin's Review 4 out of 5
Gruet's Cuvee 89 Sparkling Brut has a light yellow hue with lively bubbles. The nose is minerally and the wine has decent carbonation with flavors of sweet green apple and a creamy finish. This sparkling wine is a good buy!
Have you had this wine? Comment below and share your thoughts on Gruet's Cuvee 89 Sparkling Brut!