Famille Perrin Réserve Côtes du Rhône Rosé 2017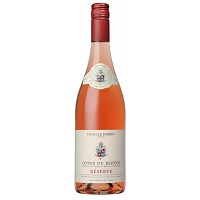 Famille Perrin Réserve Côtes du Rhône Rosé 2017
Country- France
Brand- Famille Perrin
Vintage- 2017
Type- Rosé
Varietal- Pink Wine
Price- $$
Average Wine Rating- 3
Description:
Famille Perrin Réserve Côtes du Rhône Rosé 2017 is from Cinsault, Grenache, Mourvedre and Syrah grapes. The wine has a pale pink color with aromas of red and citrus fruits. The palate is well-balanced with freshness and fruit.
About the Winery:
The Perrin family has owned Chateau de Beaucastel since 1909. Over the past five generations the family has acquired not only great vineyards in the very best terroirs of the southern Rhone Valley, but also a great understanding of these terroirs. Famille Perrin produces the following wine brands- Chateau de Beaucastel, Miraval, Domaine du Clos des Tourelles, Famille Perrin- Selections Parcellaires, Famille Perrin- Les Crus, La Vieille Ferme and La Vieille Ferme Sparkling.
Tobin's Review 3 out of 5
Famille Perrin's Réserve Côtes du Rhône Rosé 2017 has a very light hue with a light rose pink tint. I pick up aromas of raspberry, followed by flavors of strawberry and raspberry. It's subtle but good.
Have you had this wine? Comment below and share your thoughts on this Rosé!