Ecco Domani Pinot Grigio 2018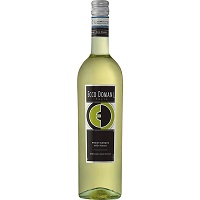 Ecco Domani Pinot Grigio 2018
Country- Italy
Brand- Ecco Domani
Vintage- 2018
Type- Pinot Grigio
Varietal- White Wine
Price- $
Average Wine Rating- 3.5
Description:
Ecco Domani Pinot Grigio 2018 has a pale straw hue with delicate floral aromas and a hint of citrus. On the palate the wine offers tropical fruit flavors and a crisp, refreshing finish. This Pinot Grigio is comprised of 87% Pinot Grigio and 13% Chardonnay grapes.
About the Winery
Ecco Domani was founded in 1995, and Fabrizo Gatto has been their head winemaker since inception. Ecco Domani released their first wines in 1996, and E&J Gallo Winery handles the company's marketing and distribution. Ecco Domain is based in Italy and they source their grapes from vineyards throughout the region for their Pinot Grigio and Merlot wines.
Tobin's Review 3.5 out of 5
Ecco Domani's Pinot Grigio 2018 has a lemon hue with a clean floral aroma. On the palate I pickup notes of lemon, apple and citrus flavors. Overall this is a pretty good wine for the price!
Have you had this wine? Comment below and share your thoughts on Ecco Domani's Pinot Grigio 2018!