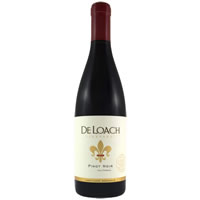 DeLoach Pinot Noir 2017
Country- USA
State- Santa Rosa, CA
Brand- DeLoach Vineyards
Vintage- 2008
Type- Pinot Noir
Varietal- Red Wine
Price- $$
Average Wine Rating- 3
Description:
DeLoach Pinot Noir 2017 is a well balanced wine with mouthwatering flavors of cherry and cranberry with a touch of spice, making the wine approachable and elegant.
About the Winery
In 1975 Cecil and Christine DeLoach originally founded DeLoach Vineyards in the Russian River Valley in Sonoma County California. The winery ran into financial difficulties in 2001 and filed for Chapter-11 bankruptcy in 2003. The Boisset family came in from Burgundy, France and purchased DeLoach. DeLoach excels in Pinot Noir, Zinfandel and Chardonnay but does produce other varietals as well.
Tobin's Review 3 out of 5
DeLoach's Pinot Noir 2017 has a plum complexion. The wine has a strong cherry aroma with a little acidity on the nose. The wine is soft on the tongue with a sweet cherry flavor.
Have you had this wine? Comment below and share your thoughts on this Pinot Noir!