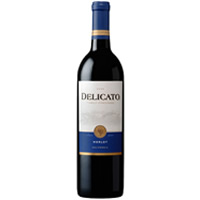 Delicato Merlot 2007
Country- USA
State- Monteca, California
Brand- Delicato
Vintage- 2007
Type- Merlot
Varietal- Red Wine
Price- $
Average Wine Rating- 4
Description:
Delicato's 2007 Merlot has a soft nose of plum and dark berry fruits with oak and spice nuances. On the palate the wine has a fruity forward with flavors of cherry and a hint of vanilla and toasty notes. The finish is smooth and well-balanced making the Merlot supple and easy to drink.
Tobin's Review 4 out of 5
Very smooth Merlot, I enjoyed this one a lot!
Have you had this wine? Comment below and share your thoughts on Delicato Merlot 2007!