D'Aquino Pinot Grigio 2018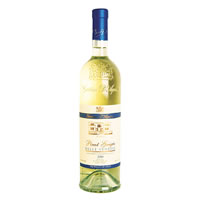 D'Aquino Pinot Grigio 2018
Country- Italy
Brand- D'Aquino
Vintage- 2018
Type- Pinot Grigio
Varietal- White Wine
Price- $
Average Wine Rating- 4
Description:
D'Aquino Pinot Grigio 2018 is light gold in color with a full, dry flavor and pleasingly bitter aftertaste. The wine is sourced from Veneto and Friuli Venezia Giulia, two northeastern regions of Italy collectively known as the "delle Venezie".
About the Winery
Sicilian immigrant, Gaetano D'Aquino, founded the D'Aquino Importing Company in 1977 in Duarte, California. He would sell wine, pasta and olive oil from Italy. For the wine that bears their label, the Italian wine producers would bottle the wine for the company directly in Italy. D'Aquino wines can be found in 22 states as well as Canada and Mexico.
Tobin's Review 4 out of 5
D'Aquino's Pinot Grigio 2018 has a creamy hay hue with aromas of apple, creamy peach and hints of citrus. The wine starts sweet but has a light dry finish. For an inexpensive wine, it's a good one!
Have you had this wine? Comment below and share your thoughts on D'Aquino's Pinot Grigio 2018!