Chateau Bel Air Bordeaux 2005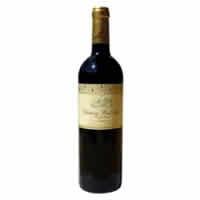 Chateau Bel Air Bordeaux 2005
Country- France
State- Bordeaux
Brand- Chateau Bel Air Winery
Vintage- 2005
Type- Bordeaux
Varietal- Red Wine
Price- $$
Average Wine Rating- 2
Description:
Chateau Bel Air Bordeaux 2005 is comprised of 82% Merlot, 11% Cabernet Franc and 7% Cabernet Sauvignon grape. This Bordeaux is dense with a deep purple color. It has a complex balanced nose, combining aromas of ripe dark fruity, woody notes and spicy touches. On the palate the wine is full-bodied, fat and opulent marked by mellow acidity and ripe round tannins.
Tobin's Review 2 out of 5
Chateau Bel Air Bordeaux 2005 has a dark purple color. I get aromas of plum and cassis on the nose. This wine is VERY dry, and it literally sucks the saliva out of your tongue. Very tannic.
Have you had this wine? Comment below and share your thoughts on Chateau Bel Air Bordeaux 2005!