Cellier du Rhone Red Blend 2007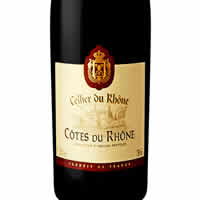 Cellier du Rhone Red Blend 2007
Country- France
State- Rhone
Brand- Cellier du Rhone
Vintage- 2007
Type- Red Blend
Varietal- Red Wine
Price- $$
Average Wine Rating- 3
Description:
Cellier du Rhone Red blend 2007 is produced is produced near the village of Chateauneuf du Pape in the Rhone wine region.
Tobin's Review 2 out of 5
Cellier du Rhone's 2007 red blend has a nice nose and smooth body. However, the aftertaste is chalky so the wine is not really smooth- I am lost on this one.
Jeanine's Review 3 out of 5
I found Cellier du Rhone's 2007 red blend to be smooth. I cannot decipher the grapes, maybe a strong cherry- not sure.
Have you had this wine? Comment below and share your thoughts on Cellier du Rhone Red Blend 2007!