Cantina di Casteggio Pinot Grigio 2019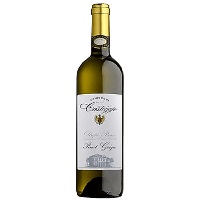 Cantina di Casteggio Pinot Grigio 2019
Country- Italy
Brand- Cantina di Casteggio
Vintage- 2019
Type- Pinot Grigio
Varietal- White Wine
Price- $$
Average Wine Rating- 4
Description:
Cantina di Casteggio Pinot Grigio 2019 has pale clean yellow tones with floral and fruit aromas.
About the Winery
Cantina di Casteggio was founded in 1907. The winery is located in Oltrepó Pavese, which is south of Milan. Cantina di Casteggio relies on their top-50 growers to produce their delicious wines.
The brand is part of Terre d'Oltrepò, which includes Sansaluto and La Versa.
Tobin's Review 4 out of 5
Cantina di Casteggio's Pinot Grigio 2019 has a light mineral hue with aromas of cantaloupe. The wine opens with flavors of citrus, sweet melon, pear and creamy earth. This Pinot Grigio is well-balanced and quite good!
Have you had this wine? Comment below and share your thoughts on this Pinot Grigio!