BV Coastal Estates Pinot Noir 2017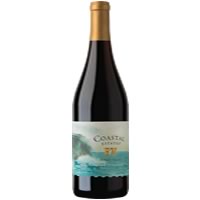 BV Coastal Estates Pinot Noir 2017
Country- USA
State- Sonoma, CA
Brand- Beaulieu Vineyards
Vintage- 2017
Type– Pinot Noir
Varietal- Red Wine
Price- $
Average Wine Rating- 3
Description:
Beaulieu Vineyards Coastal Estates Pinot Noir 2017 is varietally expressive, elegantly crafted and simply delivered. This Pinot Noir surpasses expectations on all levels. The lovely, garnet-hued color gives way to effusive red fruit aromas. The palate is soft and inviting, layering strawberries, red cherries and ripe plums with warm spices from French oak. A hint of Syrah, with its serious rich fruits and earthy tones, lends depth and complexity.
About the Winery
Beaulieu Vineyard is located in Rutherford, CA. "Beau lieu," or "Beautiful place" was named by George de Latour's wife Fernande in 1900 when she first time saw the land that would become their Rutherford Vineyard. During the 1920's when Prohibition hit, Beaulieu Vineyards actually thrived selling sacramental wines to the Catholic Church. The winery has enjoyed a successful history and is currently run by winemaker Trevor Durling (only the 5th winemaker since inception.)
Tobin's Review 3 out of 5
Beaulieu Vineyards Coastal Estates Pinot Noir 2017 has a nice ruby plum hue. The nose has a strong fruit aroma with cherry scents. The wine is soft on the palate with cherry coming to the forefront with dark berry lingering as well. Overall it is a good value for the price.
Have you had this wine? Comment below and share your thoughts on BV Coastal Estates Pinot Noir 2017!