Bottega Vinaia Pinot Grigio 2019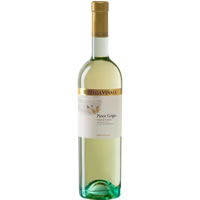 Bottega Vinaia Pinot Grigio 2019
Country- Italy
Brand- Bottega Vinaia
Vintage- 2019
Type- Pinot Grigio
Varietal- White Wine
Price- $$
Average Wine Rating- 4
Description:
Bottega Vinaia Pinot Grigio 2019 is highly aromatic with distinct citrus and floral notes. The wine is medium-bodied and elegant with a bright freshness.
About the Winery
Anselmo Martini is one of Italy's top enologists. In 1990, he set out to source grapes from family-farmed vineyards in Italy's Trentino region. This resulted in a line of estate-bottled, artisan wines which is now known as Bottega Vinaia.
Tobin's Review 4 out of 5
Bottega Vinaia's Pinot Grigio 2019 has a light honeydew hue with creamy pear notes on the nose. The wine has flavors of pear, apricot and cantaloupe that is crisp semi-sweet and balanced with a chalk finish. I really enjoyed this Pinot Grigio!
Have you had this wine? Comment below and share your thoughts on this Pinot Grigio!