Bodegas Darien Tempranillo 2008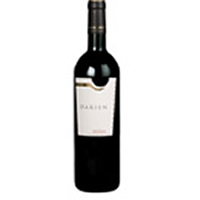 Bodegas Darien Tempranillo 2008
Country- Spain
State- La Rioja
Brand- Bodegas Darien
Vintage- 2008
Type- Tempranillo
Varietal- Red Wine
Price- $
Average Wine Rating- 2
Description:
Bodegas Dariens Tempranillo 2008 is a young Rioja with a deep plummy color, nose of ripe berries with rich black cherry and blackberry fruit on the palate and silky tannins make this new world style wine perfect for every day enjoyment.
Tobin's Review 2.5 out of 5
Bodegas Darien's 2008 Tempranillo has a fruity aroma and the aromas are quite enjoyable. However, this wine tastes fabricated, young, not complex. It does have a buttery finish, but it tastes like a cheap red wine.
Jeanine's Review 2 out of 5
I was disappointed with Bodegas Darien's 2008 Tempranillo. It tastes like it was rushed, and that it really needed to age gracefully. It isn't horrible but it does taste like a cheap red wine, because it is not complex and lacks body. It is very light, and it might accompany BBQ chicken well, but it honestly tastes like grape juice with alcohol in it.
Have you had this wine? Comment below and share your thoughts on Bodegas Darien Tempranillo 2008!