Billecart-Salmon Brut Reserve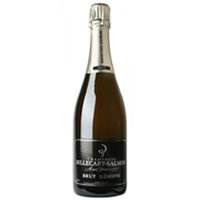 Billecart-Salmon Brut Reserve
Country- France
State- Champagne
Brand- Maison Billecart-Salmon
Type- Champagne
Varietal- White Wine
Price- $$$$
Average Wine Rating- 4.5
Description:
Billecart-Salmon Brut Reserve is a blend of Pinot Noir, Chardonnay and Pinot Meunier grapes. The Champagne has a straw yellow color with aromas of fresh fruit and ripe pears. The flavors consist of Asian pear, star fruit, pastry and honey and ends with a fine and creamy finish.
About the Winery
In 1818, Nicolas Francois Billecart and Louis Salmon (his wife's brother) joined forces to found Maison Billecart-Salmon. Since that time the Champagne House has been run by 7-generations of the Billecart family. Their Champagnes come from an estate that is 100 hectares, as well as grapes in the area from 300 hectares across 40 crus of the Champagne region to produce their fine Champagnes.
Tobin's Review 4.5 out of 5
Billecart-Salmon Brut Reserve has a nice hay hue with nice active bubbles. The Champagne pops with a sweet caramel aroma and has flavors of candied apple and citrus and ends with a creamy finish. This is a good one!
Have you had this wine? Comment below and share your thoughts on this Champagne!